Head and Neck Cancer Survivorship Webinar Series Launches July 22, 2020
HNCA launches its Survivorship Webinar Series on July 22. While registration for our first session is now closed, we welcome additional registrants for our sessions on July 29, August 5, and August 12. Register below, or click here for more information!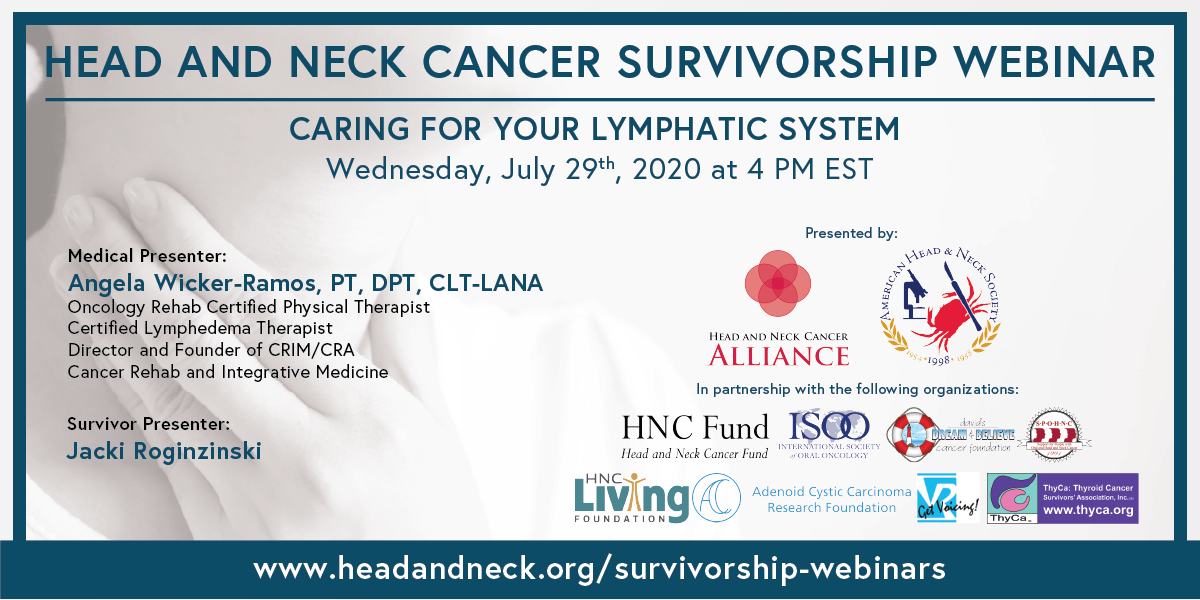 Caring for Your Lymphatic System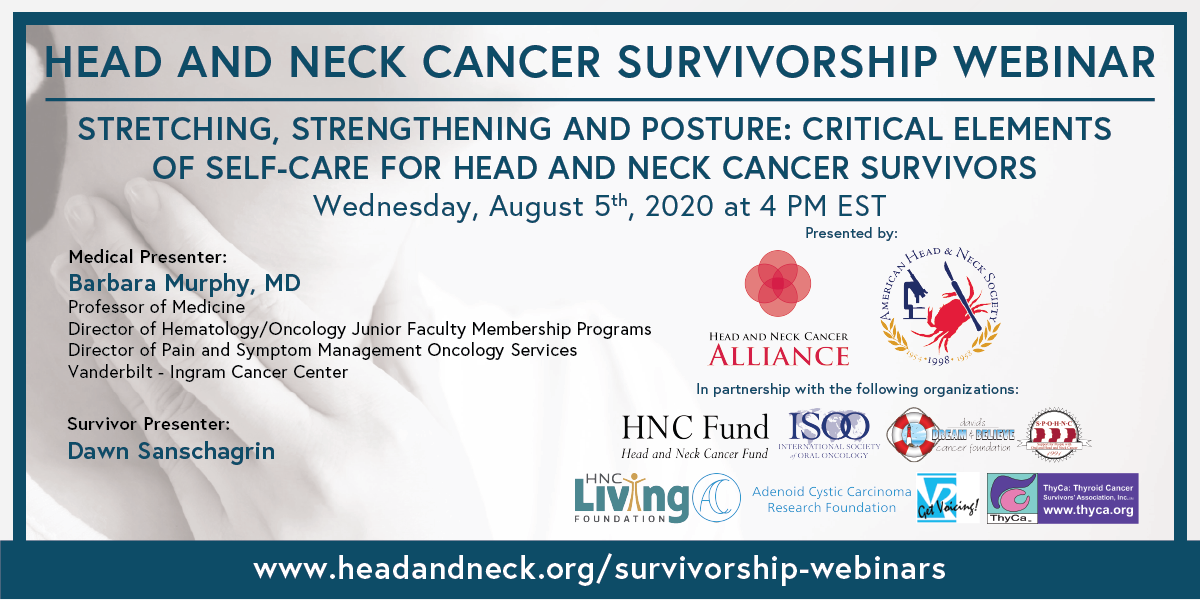 Stretching, Strengthening and Posture: ​Critical Elements of Self-Care for Head and Neck Cancer Survivors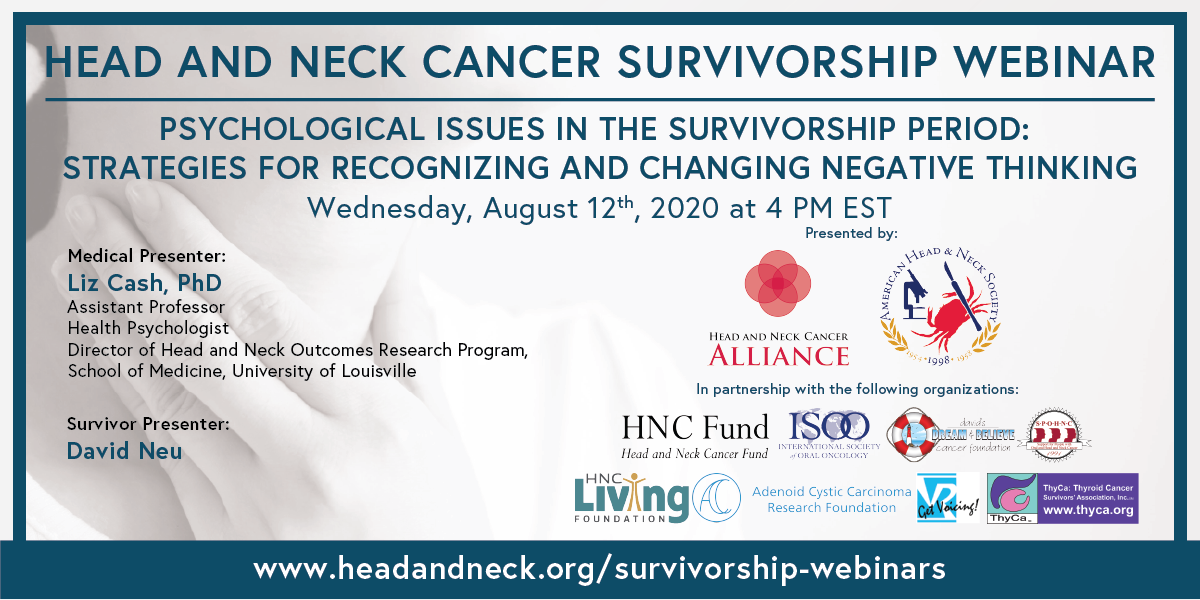 Psychological Issues in the Survivorship Period: Strategies for Recognizing and Changing Negative Thinking
Just added to our Survivorship Webinar Series lineup!
Becoming a Survivor Champion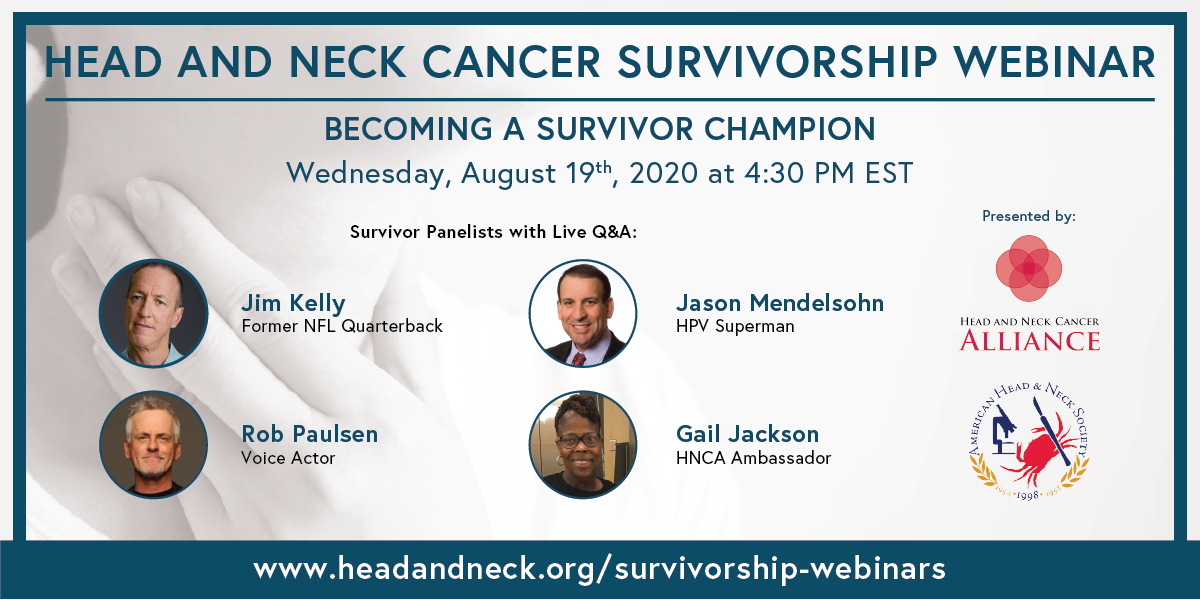 HNCA is excited to announce the addition of a fifth session to our Survivorship Webinar Series: Becoming a Survivor Champion! This session features a live Q&A with a panel of survivors including former NFL quarterback Jim Kelly, voice actor Rob Paulsen, and HNCA Ambassadors Jason Mendelsohn and Gail Jackson. Moderated by HNCA Board member Dr. Cherie-Ann Nathan, this session will teach survivors how to be advocates in their own communities for prevention and early detection of head and neck cancer. During the live Q&A, panelists will share their own experiences as patients, survivors, and community advocates. Registration is now open for this session until Thursday, August 13, 2020 at 5 PM Eastern.
HNCA Partners with Imerman Angels to Offer Peer-to-Peer Mentoring
A cancer diagnosis is overwhelming. Even with the best medical team and family support, sometimes what helps the most is being able to talk to someone who's been through the same diagnosis and treatment. HNCA is working with our partner, Imerman Angels, to create a head and neck cancer peer-to-peer mentorship program. The program will match newly diagnosed patients with survivors who match their own situations as closely as possible. This "buddy system" will allow patients to share their concerns, ask questions, and have someone to talk to who truly understands the patient experience. More information will be available soon on the program and how to get involved.
Corporate Partner Spotlight: Rakuten Medical
Rakuten Medical, Inc. is an early stage global biotechnology company developing precision, cell-targeting investigational therapies on its IlluminoxTM technology platform. Active trials for eligible head and neck cancer patients are available. For more information, visit www.rakuten-med.com.
Help Researchers Understand How COVID-19 Has Affected HNC Patients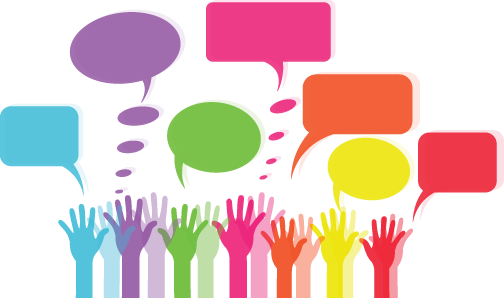 We hope you all are staying safe and doing well! As you may know, COVID-19 has had a dramatic impact on the global community at large and also that of the head and neck oncology field. Given the balance of minimizing transmission and providing crucial care to you all, your care may have been impacted in various ways. We would like to invite you all, active head and neck cancer patients, survivors, or caregivers, to complete a short survey that will address your needs and concerns during the COVID-19 era. Family members, friends, social workers, or non-profit staff members can fill out this survey on behalf of a patient. All survey responses are anonymous and will be used for research purposes to help us best address the challenges faced by head and neck cancer patients. We would greatly appreciate your participation and additionally, are holding a raffle drawing for a Vitamix blender and/or HNC patient-specific cookbooks to express our gratitude. The deadline for the survey is August 15th, 2020.
*Statement on Sponsor Content and Corporate Support: The information published on this website and in our materials is intended to educate you about Oral, Head and Neck Cancer. The content is not intended to take the place of a discussion with a qualified physician who is familiar with your medical situation. It is important to remember that each individual is different, and the reasons for—and outcomes of—any treatment plan depends on the patient's individual condition. If you have questions or concerns after reading any information on this website or in our materials, you should discuss them openly and honestly with your physician. Any products and manufacturers included on this site are presented for informational purposes only and do not constitute product approval or endorsement by HNCA. The content provided by HNCA is in no way intended to be a substitute for medical consultation with a qualified professional. HNCA encourages those using its resources to be careful when evaluating medical information or products. If you are unsure about your medical condition, consult a physician. Funding from our corporate partners supports HNCA's programs and educational initiatives, and HNCA maintains independence in its design of programs, content, and initiatives.
Get
Involved
and Support Head and Neck Cancer Patients
You have the power to raise awareness, encourage prevention, promote screening and early detection, and advocate for access to care. Interested in contributing your time or supporting HNCA? We offer a variety of ways to get involved:
Organize an awareness or fundraising event in your community;
Donate. Your unrestricted gift is key to supporting our mission and our most critical programs;
Become a Corporate Partner of events and/or patient-focused or clinician education programs;
Partner with our organization and host a screening in your community (only available to clinicians).
For more information on the Head and Neck Cancer Alliance, click here.
Thank You to our Corporate and Community Partners 

CLICK A LOGO BELOW TO LEARN MORE ABOUT OUR PARTNERS!
Head and Neck Cancer Alliance
PO BOX 21688 | Charleston, South Carolina 29413
866-792-4622 | info@headandneck.org