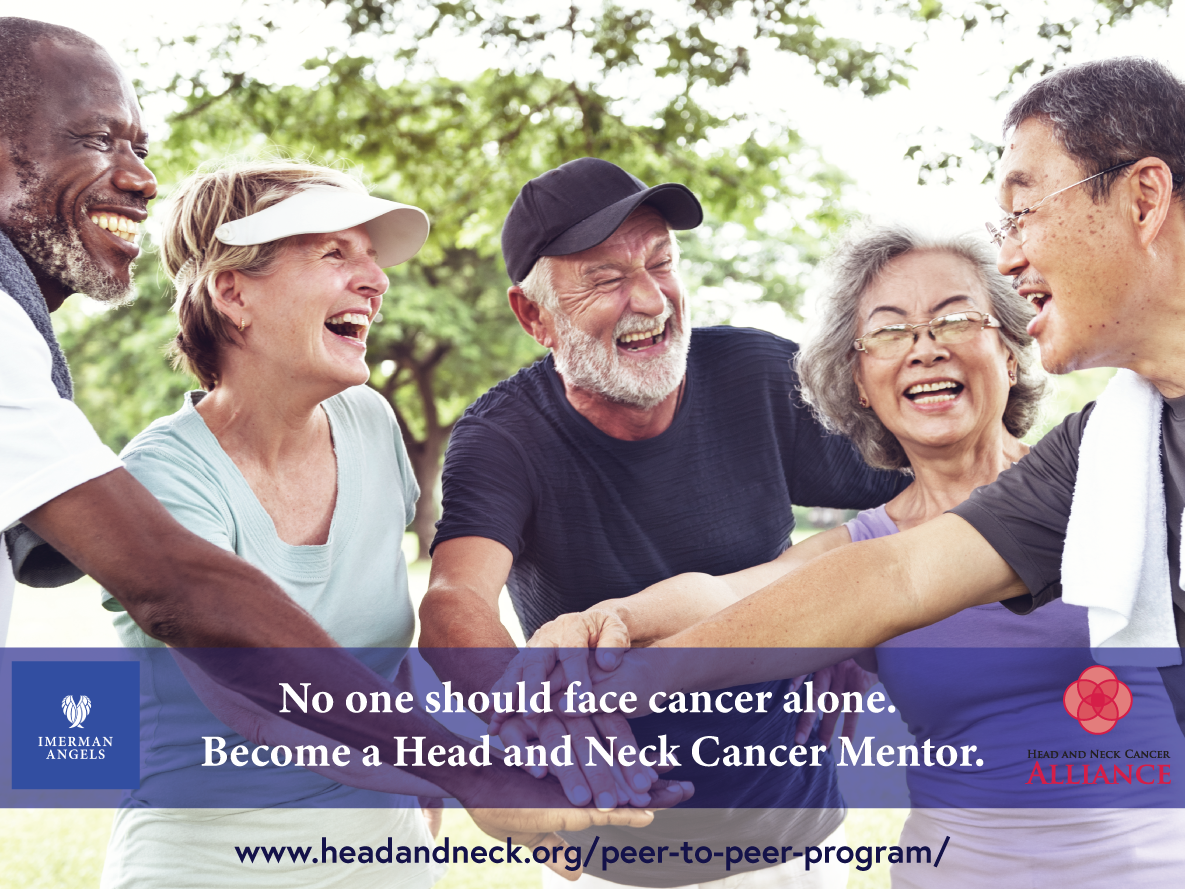 Head & Neck Cancer Alliance and Imerman Angels Peer-to-Peer Program
The Head and Neck Cancer Alliance is pleased to announce a new partnership with Imerman Angels designed to provide peer-to-peer support for the head and neck cancer community! HNCA and IA share the belief that no one should face cancer alone. Through a unique matching process, we will connect head and neck cancer survivors and experienced caregivers ("Mentor Angels") with patients and caregivers currently on similar cancer journeys.
Our Mentor Angels will provide one-on-one emotional support and compassion to cancer fighters and caregivers, and give them the chance to ask personal questions and receive support from a peer who has been down the same road before. Mentor Angels may lend support and empathy, help cancer fighters and caregivers navigate the system, determine their options, and create their own support systems.
We are currently in the process of recruiting volunteer head and neck cancer Mentor Angels. Each Mentor Angel applicant will complete a profile outlining their personal experience with head and neck cancer and will then work with an Imerman Angels staff member to be fully screened and trained. Mentor Angels are placed in a matching database and are contacted when a cancer fighter or caregiver seeking support matches with their particular experience. Click here to learn more and to sign up to become a mentor.
In the weeks to come, HNCA and Imerman Angels will open up the program to patients and caregivers seeking support. At this time, we are only seeking to recruit new head and neck cancer Mentor Angels.
This service is free of charge and helps everyone touched by cancer. All Mentor Angels are properly screened and trained. We ask that you only register yourself.
This program is made possible through a partnership between
Head and Neck Cancer Alliance and Imerman Angels.

A Survivor's Experience as an Imerman Angels Mentor
Gail was first diagnosed with head and neck cancer in 2012. She later volunteered as a mentor with the Imerman's Angels because it was important for her to be able to find additional ways to provide much-needed support to head and neck cancer patients and survivors, especially to those who have just concluded treatment and enduring the often debilitating side effects, which are both short- and long-term.
Read about Gail's cancer journey and her experience as a head and neck cancer survivor mentor through Imerman Angels.
Ask the Expert with Dr. Angela Ricker-Ramos: October 5-8, 2020
From October 5 - 8, Angela Wicker-Ramos PT, DPT, CLT- LANA will be answering your questions about Caring for Your Lymphatic System During and After Head and Neck Cancer Treatment. This Ask the Expert session will be available through HNCA's online support community. Become a member now, so you can participate in this informative Q & A!
Dr. Wicker-Ramos, a certified lymphedema therapist and oncology physical therapist, will be available to answer questions on lymphedema, swelling due to lymph node dissection and radiation following cancer treatment. Dr. Wicker-Ramos will help address lymphedema's signs, side effects, treatment options, and lymphatic health guidelines.
More information about the session will be shared soon!
Special thanks to our partner, Tactile Medical, for sponsoring this Ask the Expert session!
2020 Oral, Head & Neck Cancer Awareness® Screening
Although it is a difficult time to check on your health, it is still important to get screened for cancer. HNCA is working with our Oral, Head and Neck Cancer Awareness® (OHANCA®) 2020 partners to provide free screenings for oral, head and neck cancer to the local communities at a time when it is deemed safe to do so by the respective institutions, local and state authorities.
A special shout-out to our partners from University Hospitals Cleveland Medical Center! They have scheduled a free screening for Thursday, October 1st from 9 AM to 12 PM and 1 PM to 4 PM in Cleveland, OH.
The screening site will be following its own internal guidelines, protocols, etc., as set up by respective institutions, local and state authorities.
Oral, Head & Neck Cancer Awareness Week® (OHANCAW®) is made possible in part by grant funding from the following supporters: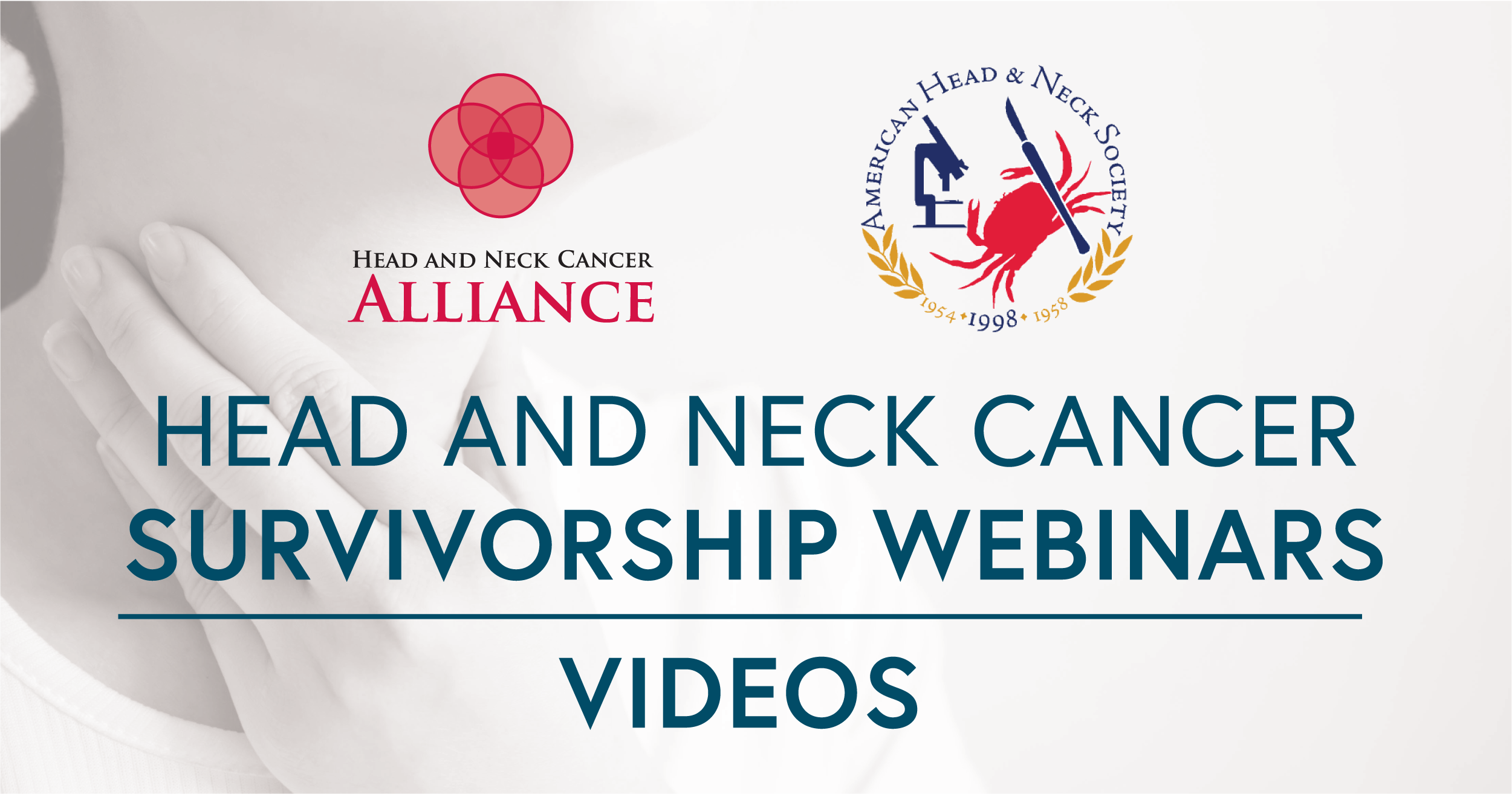 2020 Head and Neck Cancer Survivorship Webinar
Videos Now Available Online
The Head & Neck Cancer Alliance and the American Head & Neck Society hosted a 2020 Head and Neck Cancer Survivorship webinar series once a week from July to August for a total of five sessions. The pre-recorded portion of the five webinars are now available online!
Thank you to all participants who registered and attended the webinars and we are grateful to our corporate and institutional sponsors, without their support, this program would not have been possible. Thank you to Astra Zeneca, Bristol Myers Squibb, Merck, Rakuten Medical, Alkermes, Galera Therapeutics, Genentech, MeiraGTx, Nanobiotix, Tactile Medical, LSU Health Foundation, Indiana University, and the University of Kansas Cancer Center.
HNCA Ambassador Raising Awareness with One of Our Partners
HNCA Ambassador and stage IV HPV-attributed throat cancer survivor, Michael West, is raising awareness by sharing his journey with the American Cancer Society for their virtual Relay For Life scheduled for this month. The HPV virus is very prevalent, with 4 out of 5 Americans exposed to it at some point during their lifetime. Mike provides insight into the difficult struggles a patient endures when battling throat cancer through surgery, radiation, and chemotherapy. He also emphasizes the importance of the HPV vaccination for kids aged 9 - 12 years old, which can protect them from 6 kinds of HPV related cancers. Mike provides hope for those fighting cancer with his views on how to focus on being positive by looking for your blessings even during the darkest of storms.
Final Recipe Contest Winner
Thank you to everyone who submitted recipes to the HNCA recipe contest this quarter. Congratulations to our most recent Recipe Contest Winner!
Michael Sabella
We have received a variety of delicious and nutritious recipes since our contest began 2 years ago. The contest has now come to an end, but we still welcome recipe submissions to be included on the HNCA recipe card page and newsletters. If you are interested in sharing your recipes with head and neck cancer patients and survivors, please email us at info@headandneck.org.
Get
Involved
and Support Head and Neck Cancer Patients
You have the power to raise awareness, encourage prevention, promote screening and early detection, and advocate for access to care. Interested in contributing your time or supporting HNCA? We offer a variety of ways to get involved:
Organize an awareness or fundraising event in your community;
Donate. Your unrestricted gift is key to supporting our mission and our most critical programs;
Become a Corporate Partner of events and/or patient-focused or clinician education programs;
Partner with our organization and host a screening in your community (only available to clinicians).
For more information on the Head and Neck Cancer Alliance, click here.
*Statement on Sponsor Content and Corporate Support: The information published on this website and in our materials is intended to educate you about Oral, Head and Neck Cancer. The content is not intended to take the place of a discussion with a qualified physician who is familiar with your medical situation. It is important to remember that each individual is different, and the reasons for—and outcomes of—any treatment plan depends on the patient's individual condition. If you have questions or concerns after reading any information on this website or in our materials, you should discuss them openly and honestly with your physician. Any products and manufacturers included on this site are presented for informational purposes only and do not constitute product approval or endorsement by HNCA. The content provided by HNCA is in no way intended to be a substitute for medical consultation with a qualified professional. HNCA encourages those using its resources to be careful when evaluating medical information or products. If you are unsure about your medical condition, consult a physician. Funding from our corporate partners supports HNCA's programs and educational initiatives, and HNCA maintains independence in its design of programs, content, and initiatives.
Thank You to our Corporate and Community Partners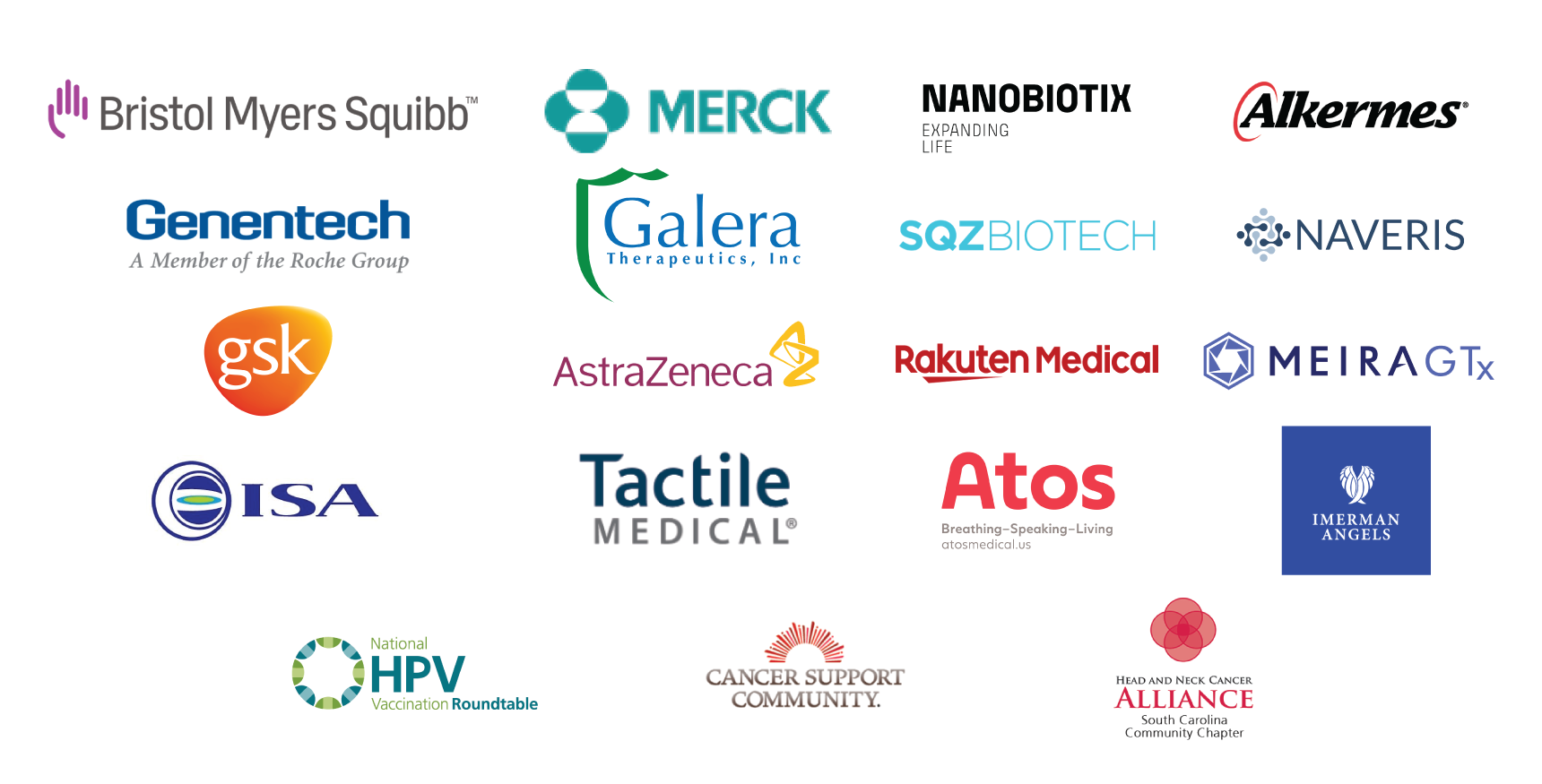 Be sure to add our email address to your address book or safe senders list so our emails get to your inbox.
Head and Neck Cancer Alliance
PO BOX 21688 | Charleston, South Carolina 29413
866-792-4622 | info@headandneck.org